Gainesville GA Complete Tree Care
Emergency Tree Service
Professional Arborist
Tree Trimming
Stump Grinding in Gainesville
Emergency Tree Removal
Tree Cutting
Tree Pruning
Need your trees Removed, Cut or Trimmed?
Let an experienced Arborist handle the task. Call Leytons Tree Service today!
Gainesville Tree Removal
Sometime trees will get infested with pests or bug and make it weak. It is then important that you get your tree removed so it won't spread to your other trees or become a hazard. If you are unsure if your tree needs to be removed or is diseased, give us a call and we can come out and check on it and tell you what your best option is!  We have a crew that is highly trained and will remove your trees without safely. Depending on where the tree is located or how big it is will make a difference on how it is removed. If you get a tree service crew that doesn't have experienced or isn't trained for specific situations, you could have a serious problem on your hands. We cover all our bases and take into consideration how close the tree is to its surroundings, such as roads, house, shed, other trees, etc. The Gainesville Tree Service team then carefully cuts so the tree falls a certain way or uses different types of equipment to take it down safely.
What our Happy Tree Service customers have to say:
Laytons Tree Service brings a certain level of excellence and professionalism to the table that sets them apart from most companies. They listened to what I needed...
We moved back to Gainesville in January 2018 and bought our first house, which came with a small jungle in the back yard: overgrown trees, excess of bushes and stumps...
We had a huge pine tree in our backyard that needed to be removed. My husband googled tree companies and the first one he came up was Leytons Tree Service. I called...
Did you know our consultations are completely free and confidential?
Need your trees Removed, Cut or Trimmed?
Let an experienced Arborist handle the task. Call Leytons Tree Service today!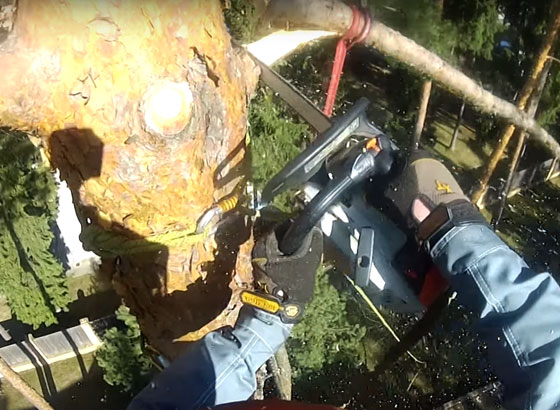 Tree Trimming
Sometimes trees get too big and start creating problems if they are closed to your house or by the road or your business. If you are a getting a tree trimmed it is important that you have a certified arborist that know when and where it is appropriate to trim a tree. There is a big difference between a tree trimmer and a professional arborist. An arborist knows the different species of trees that grow in your area and how to trim them accordingly. When you cut a tree it is similar to a wound and can damage it if not done correctly. Correct pruning can help your hedge or tree to grow healthier. Keeping your trees and hedges trimmed is essential to keeping your property looking classy and safe. If you are a business owner in Gainesville, Georgia then it is important you keep your trees trimmed and back for the roadway or sidewalk so your customers can safely access your place of business.
Stump Removal
Are you developing a piece of ground so you can build your dream home or start a chicken farm? Then you know how annoying it is to have trees removed and then the stump is left behind. If you try burning the stumps it can be a process of time and patience. We offer a better solution for you! Depending on your unique situation, we can offer different methods to removing your stumps on your Gainesville property. We have the proper equipment and training to efficiently and effectively do stump removal. One of the methods we use is to pull the stump out of the ground by hooking onto it with a claw like a device and using heavy-duty machinery to pull it entirely out of the ground. We can then haul the stumps off or we can grind them up with our stump grinder. If you have a tight schedule and you need your stumps removed as soon as possible, getting them pulled out of the ground is your best option. Call Gainesville, Georgia's Tree Service today for stump removal!
Need your trees Removed, Cut or Trimmed?
Let an experienced Arborist handle the task. Call Leytons Tree Service today!
Storm Debris Removal
Storms happen and it can damage your trees or blow them over and cause damage to your property. Sometimes this is unavoidable but our Gainesville Tree Removal team works around the clock to clean up debris and remove potential hazards such as trees on wires or damage to the property. We have trucks that can haul off the trees and leave you behind with no mess and no worries.